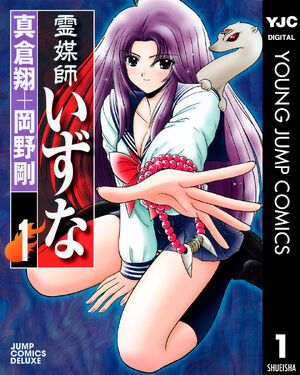 Reibaishi Izuna: The Spiritual Medium (霊媒師いずな, Youkikou Reibaishi Izuna) is a Japanese supernatural seinen manga created by Takeshi Okano Takeshi and Sho Makura. It is a spin-off from the original Hell Teacher Nube manga taking place in the same universe. The manga eventually gained a sequel: Reibaishi Izuna: Ascention.
Through its period from July 18, 2007 to October 2, 2011; the chapters were serialized on Oh Super Jump magazine until it was canceled and the series moved to Super Jump magazine. The manga eventually finished with 70 chapters and compiled into 10 tankobon volumes.
Izuna Hazuki is a 17-year-old high school Itako, a person in tune with spirits who works in the city as a Reibaishi. There are evil spirits in the world that take advantage of peoples' insecurities, emotional stress, and weaknesses, and take over them to enhance their negative energy, eventually harming everything around. Some evil spirits make young girls looking to be in the spotlight into arsonists and other spirits tap into men's sexual desires to make them into monsters.
But Izuna's job is to remove the spirits with her own abilities along with her kudafox spirit pet that detects and destroys evil spirits. It's up to Izuna shine the light in the darkness between fantasy and reality.
Influence and Homage
Edit
References
Edit